C Shaver's Poppin Pennelopee ~"Nellie"
Nellie is a blk tri female with one blue eye and is blue eyed producer. She is 11 3/4"~12lbs. Her grandmother was IABChampion. Nellie is Mdr1 clear and is ASD registered. Pennelopee is out of Cabela and Shooter.

C Shaver's Cabela Zee ~"Bela" Retired
Bela is a blk tri female who has produced blue eyed tris and is just a wonderful dog who is by my side at all times. She is 13 3/4"~ 18lbs. Bela is ASD registered. She gave us Pennelopee, Fannie Mae, and Smurf.
---
This baby is out of Nellie and Bela is her grandmother. Wanted to keep these lines going. Best dogs ever!
C Shaver's Fannie Mae ~"Fannie"~Semi retired.
Fannie is a blue eyed blk tri. She is 15 " 40lbs and currently on a diet. Her grandmother was IABChampion. Fannie is probably the sweetest dog ever! She is ASD registered. Fannie is out of Cabela and Shooter.

Shavers Snazzy Blue Smurfette "Smurfette"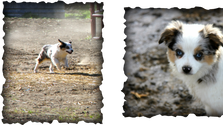 Smurfette was raised here with us. She is out of our Cabela and Ruff Daddy. Smurfette is 11" tall, with two gorgeous blue eyes. She is was a great therapy dog for a dear friend of ours and returned home so we could have the oppurtunity to have puppies out of her. She can smile like no other! RIP 2019
---
​C Shaver's Foxy Fallon "Fallon"
Fallon was raised here with us. She is a beautiful blue eyed tri out of Josie and Shooter.We are very excited to keep her! Fallon is 14" tall and weighs 25 lbs. Her favorite thing is to sleep in!
C Shaver's "Josie"~ Retired
Josie is a blue merle female with blue eyes and red factored. She is 14 3/4"~30lbs. Mdr1 clear and loves water, snow and fetch! Josie is dual registered with ASD and NSD. ​Josie was Fallon's mom. Craziest fun dog ever. She was one of a kind. RIP Josie 2018.
---
C Shaver's Mini Pearl "Pearl"
Pearl was raised here. She is out of Fannie Mae and Deke. Beautiful mini.... As soon as she is old enough we have big plans for her! Pearl and June Alice are like Batman and Robin always together.
Just a little lady Sophie "Sophie"
Sophie came to us all grown up but thinks she has lived here forever and assumes she runs the place. SHe is 13 3/4 " tall and weighs around 17 lbs.
C Shaver's Bug of Hope "Hope"

Hope is out of Sophie and Brutus. She is very special to my daughter. Hope has a gorgous coat and will be beautiful when she is mature. Big plans for this beauty!
C Shaver's Ruby Chubby Cheeks" Ruby"
Ruby is a tiny toy at 10 1/2" tall and weighs 5 lbs. SHe is so tiny we are still on the fence if we are going to bred her. This little stinker can run next to our 4 wheeler at 37 mph. So fast and her speciality is bird chasing. She is out of Ruff Daddy and Love Bug.

C Shavers Biting Love Bug ~"Love Bug"
Love bug blessed us with her presence. She was the best traveling partner and best friend you could have ever asked for. Our hearts will always miss her. She passed away 2018 in an unforeseen accident. She gave us Ruby Red Chubby Cheeks.
---
C Shaver's Paisley Ann Possum "Paisley"
Paisley is a long haired Augie. She is out of June Alice and Big Brutus. We are thinking Paisley will be under 10" tall and hope to breed her when she is old enough. She is the best baby ever!
C Shaver'sJune Alice " June Alice"
June Alice is and Augie out of Merry and Ruff. She is 9" tall and 11 1/2 lbs. She is spoiled, sleeps with us, loves to travel, and ride the 4 wheeler.

Davey's "Merry" ~Retired
Merry is a registered Corgi that was my moms. She is very tiny, at 11". She is beautiful and the Augie puppies are gorgeous! Which is why we kept June ALice.
---
C Shaver's Gypsy Road "Gypsy"
Gypsy is our new addition Pembroke Corgi... When she is old enough she will be taking Merry's place to raise a few Augies. She loves to play and has the sweetest personality.