Here are some of our past babies. Thank you to all of you that provided them with great homes! From our family, to yours.

Wyatt to Lisa Boston Ma. Reggie to Dakota Ephrata WA Mattie to Carol CA.

Blue to Tim Lewiston Id. Copper to Emma Lind WA. Doc to Keith Wilbur WA.
Tim's 2nd baby from us.

Manny to Kate Redlodge MT. OLivia to Tacoma WA. Ringo to Tacoma WA.

Dune sold to Kaz of NY. Jasmine sold to Don of Portland Or. Rella sold to Chloe of NewBrunswick Ca.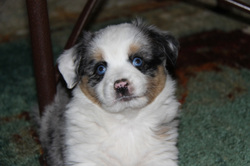 I picked up Dorthy at the airport this afternoon and fell in love instantly. One look at her face and all you can do is smile and then the kisses started. Dorthy is now Abby and she slept in my arms most of the evening and loves to be close to you. Darla was great to work with and answered all of my many questions and I would recommend their puppies to anyone who is looking for a health, loving friend.

Thank you again,
Bob Rodkey

---